Winthrop is a public, comprehensive university that is committed to be among the very best institutions of our kind in the nation. At Winthrop, there's more to consider: character, quality, excellence and community. Through an educational experience that blends professional programs, global awareness and civic engagement, Winthrop will help you develop the knowledge, skills, and values that will enrich your life forever and prepare you for what the future holds.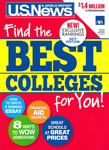 Ranked 6th among Southern Public Universities in the South and 18th among Regional Public and Private Institutions by U.S. News & World Report.
Winthrop Fact Facts
Founded: 1886
Status: Public, coeducational
Location: Rock Hill, South Carolina (about 20 minutes from Charlotte, North Carolina)
Graduate enrollment: 1,018
Undergraduate enrollment: 5,091
On-campus residents: 47%
Male/Female ratio: 30%/70%
Diversity: 37.5% U.S. minorities
Student/Faculty ratio: 14 to 1
School colors: Garnet & Gold
Team name: Winthrop Eagles
Mascot name: Big Stuff
Conference: Big South, NCAA, Division I
Intercollegiate Sports: 18
Recent Achievements, Rankings and Recognitions
Winthrop University offers high-quality educational programs that are also recognized for providing superior value. Winthrop's recent rankings include:
#6 Southern Public University – U.S. News & World Report 2022
#18 Regional Public and Private Institutions – U.S. News & World Report 2022
#6 Best College for Veterans – U.S. News & World Report 2022
#40 in Best Value Schools – U.S. News & World Report 2022
#86 Best Bang for the Buck College – Washington Monthly
#74 for its contribution to the public good – Washington Monthly
Among the Best Southeast Colleges – The Princeton Review 2021
A Best Value College – Money Magazine
Among the top ten South Carolina colleges for affordability – Affordable Colleges Online 2020
A Princeton Review "Green College"
History
Winthrop University has been an educational leader in South Carolina for more than a century. In 1886, David Bancroft Johnson, a dedicated and gifted superintendent of schools, successfully petitioned Boston philanthropist Robert C. Winthrop and the Peabody Fund for seed money to form a school whose mission would be the education of women as teachers. As the "Winthrop Training School," Johnson's fledgling institution opened its doors to 21 students in Columbia, S.C., using a borrowed, one-room building. Because of its important role, Winthrop soon received state assistance and moved to its permanent Rock Hill home in 1895.
Over time, Winthrop became one of the premier women's colleges in the region and expanded its mission to become a comprehensive institution offering degrees in a growing variety of disciplines. The institution diversified its class ranks by extending its educational offerings to minorities in 1964 and becoming fully coeducational 1974. Winthrop assumed university designation in 1992 and has achieved national recognition in pursuit of its goal to be one of the finest comprehensive universities in the country.
Winthrop has changed dramatically since 1895, growing from a single classroom to a comprehensive university of distinction. Today, more than 6,000 students take courses in arts and sciences, education, business administration, and visual and performing arts.
Consider the benefits an online graduate degree from Winthrop can bring to your career. Contact a program manager toll-free at 833/257-1704 or request more information today!